DATE: Tuesday, March 22, 2023
TIME: 6:00 P.M. (or as soon thereafter as the matter may be heard)
LOCATION: 11999 Palm Drive, Desert Hot Springs, CA 92240
---
NOTICE IS HEREBY GIVEN that the Planning Commission of the City of Desert Hot Springs will conduct a Special Meeting to hold a Public Hearing to consider Development Permit No. 22-4 and certify the Mitigated Negative Declaration.
CASE(S): Development Permit No. 22-4
LOCATION: The project site is located on the northeast corner of Calle De Los Romos and 19th Avenue. APN: 666-360-017 within the I-L (Light Industrial Zoning District)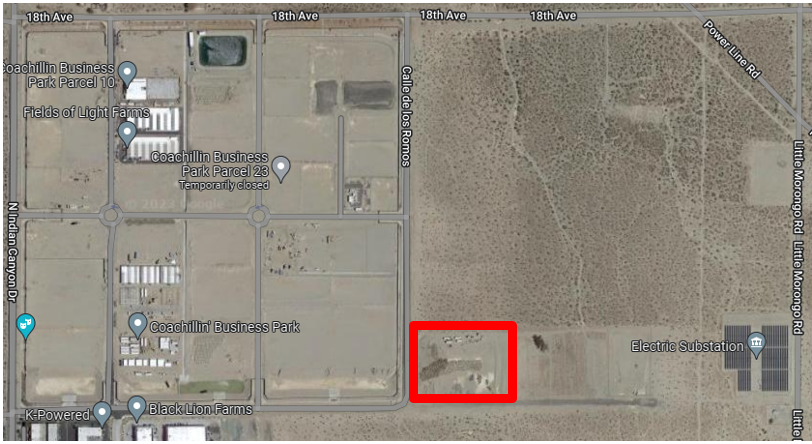 APPLICANT/REPRESENTATIVE: Almar Management, LLC
PROPOSAL: The proposal includes the development of a climate-controlled warehouse facility of approximately 60,000 sq. ft. along with supporting infrastructure improvements.
ENVIRONMENTAL DETERMINATION:  Notice is hereby given pursuant to Section Number 15072 of the California Environmental Quality Act (CEQA), to notify all interested parties that the City of Desert Hot Springs has prepared a Draft Initial Study and Mitigated Negative Declaration for the project described herein. This Initial Study was undertaken for the purpose of deciding whether the project may have a significant effect on the environment.
On March 22, 2023, the Planning Commission, at the public hearing or during deliberation, may recommend approval, deny, or propose changes to the project or to the environmental determination.
INTERESTED PERSONS MAY appear and be heard, or written comments may be submitted prior to the Public Hearing(s). Written comments will be made a part of the public record. The public comment period will begin on March 1, 2023, and end on March 20, 2023, at 5:00 P.M. Pacific Standard Time. If this matter should at some future date go to court, court testimony may be limited to only those issues raised at the public hearing described in this notice, or in written correspondence delivered to the City of Desert Hot Springs, at or prior to, the public hearing.
All information regarding the proposed project is available for public review at the City of Desert Hot Springs City Hall, 11999 Palm Drive during regular business hours (Monday through Thursday, 7:00 AM – 6:00 PM).
QUESTIONS AND INQUIRIES regarding this matter or to review information for the above-described project:
Patricia M. Villagomez, Principal Planner
Community Development Department
11999 Palm Drive, Desert Hot Springs, CA 92240
(760) 329-6411 Ext. 243
pvillagomez@cityofdhs.org
---
Americans with Disabilities Act (ADA): In compliance with the Americans with Disabilities Act, if you need special assistance to participate in this meeting, please contact the City Clerk's Office at (760) 329-6411 or via email at jsoriano@cityofdhs.org. Notification at least 48 hours prior to the scheduled meeting(s) will enable the City to make reasonable accommodations to ensure accessibility.