DATE: Tuesday, August 9, 2022
TIME: 6:00 P.M. (or as soon thereafter as the matter may be heard)
LOCATION: 11999 Palm Drive, Desert Hot Springs, CA 92240
---
NOTICE IS HEREBY GIVEN that the Planning Commission will conduct a Public Hearing to consider Conditional Use Permit No. 22-5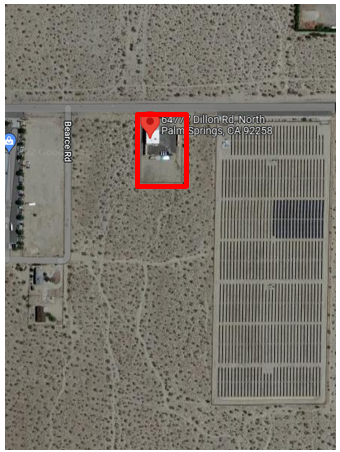 CASE(S): Conditional Use Permit No. 22-5 (CUP 22-5)
LOCATION: The project site is located at the Vons Shopping Center at 14080 Palm Drive #C within the Commercial General (C-G) Zone. APN 656-040-029
APPLICANT/REPRESENTATIVE: Zhan Lu on behalf of Jin Ding Massage Spa.
PROPOSAL: The applicant has filed a Conditional Use Permit to allow for a new Massage Establishment.
ENVIRONMENTAL DETERMINATION: The applicant proposes to occupy a tenant space within an existing building.  In accordance with the provisions of the California Environmental Quality Act ("CEQA"), staff has determined that the project is Categorically Exempt from further environmental review pursuant to Section No. 15301(a), Class No. 1 (Existing Facilities), of the CEQA Guidelines.
On August 9th, 2022, the Planning Commission, at the public hearing or during deliberation, may approve, deny, or propose changes to the project or to the environmental determination.
INTERESTED PERSONS MAY be heard or written comments may be submitted prior to the Public Hearing(s). Written comments will be made a part of the public record. If you challenge this matter in court, you may be limited to raising only those issues you or someone else raised at the public hearing described in this notice, or in written correspondence delivered to the City of Desert Hot Springs, at or prior to, the public hearing.
All information regarding the proposed project is available for public review by appointment at the City of Desert Hot Springs City Hall, 11999 Palm Drive Desert Hot Springs CA 92240, during regular business hours (Monday through Thursday, 7:00 AM – 6:00 PM).
QUESTIONS AND INQUIRIES regarding this matter or to review information for the above-described project:
Contact Person:   Erick Becerril
Mailing Address:
Phone:                   (760) 329-6411, Ext. 240
Community Development Department
Email:                    ebecerril@cityofdhs.org
11999 Palm Drive,
Desert Hot Springs, CA 92240
---
Americans with Disabilities Act (ADA): In compliance with the Americans with Disabilities Act, if you need special assistance to participate in this meeting, please contact the City Clerk's Office at (760) 329-6411 or via email at jsoriano@cityofdhs.org. Notification at least 48 hours prior to the scheduled meeting(s) will enable the City to make reasonable accommodations to ensure accessibility.