New Park Restroom Hours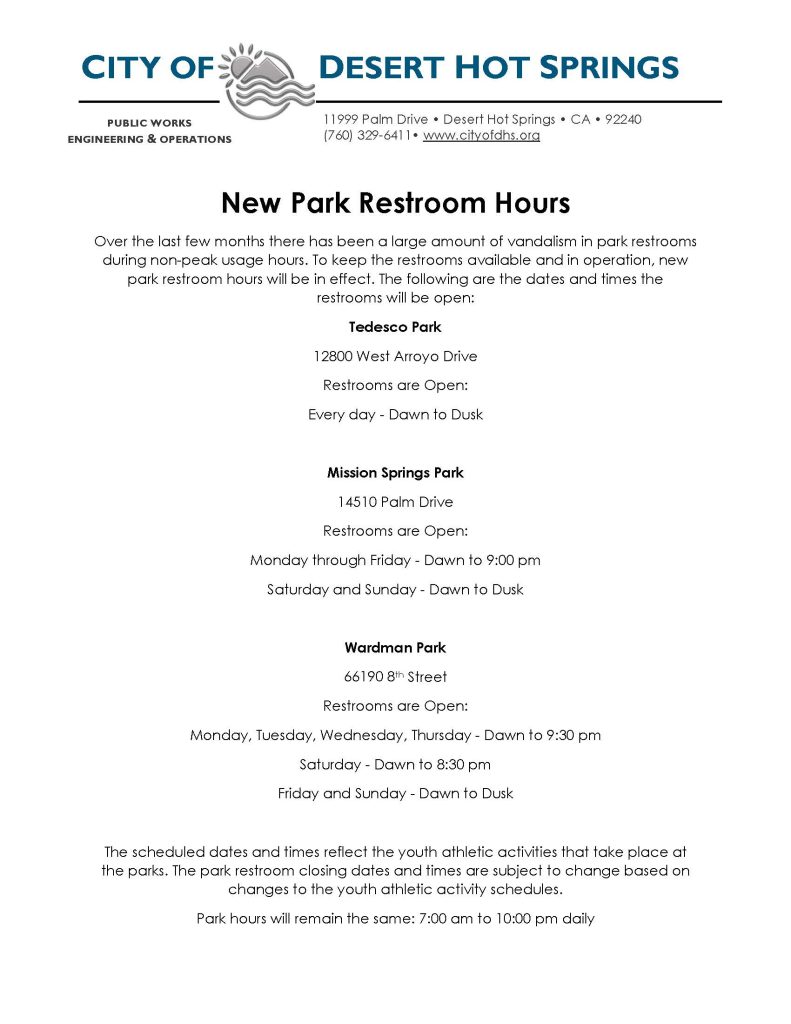 Tedesco Park Picnic Area Upgrades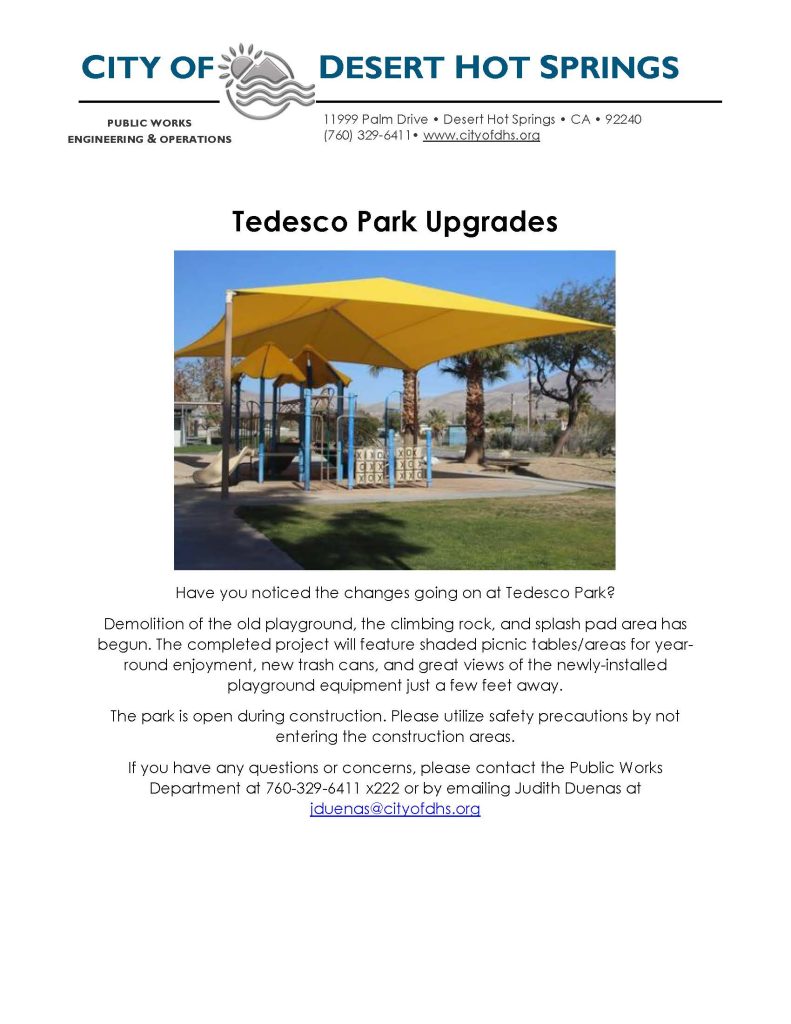 FREE Curbside Bulky Item Pick-up: Week of April 25, 2022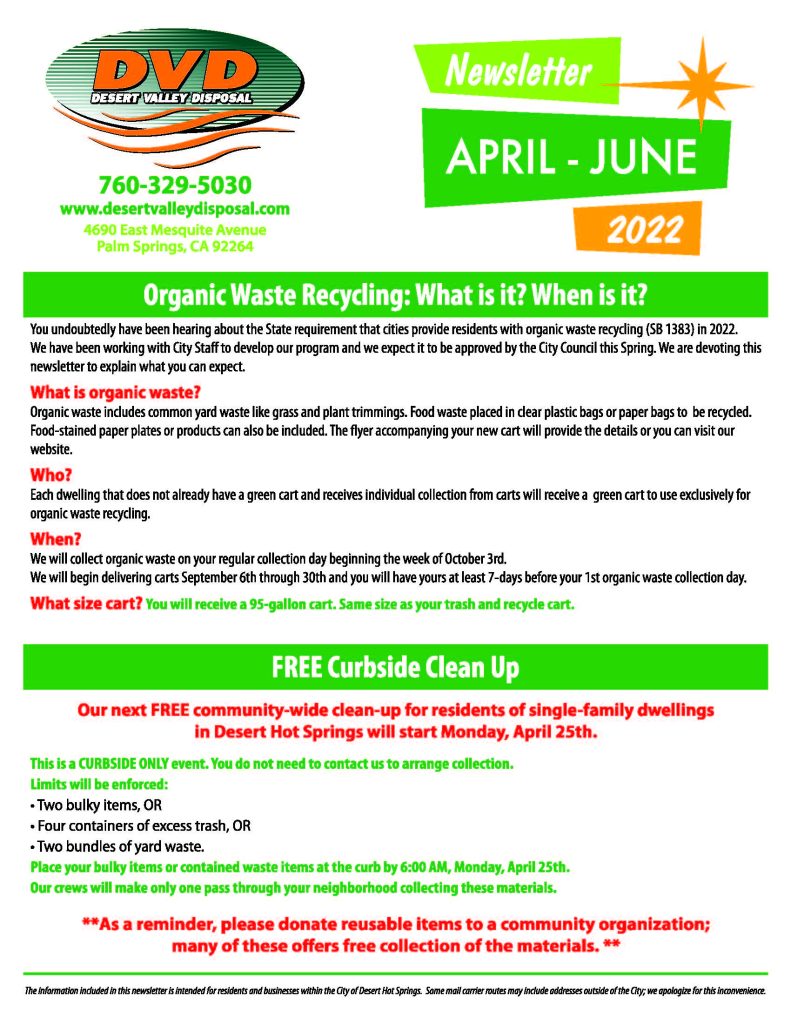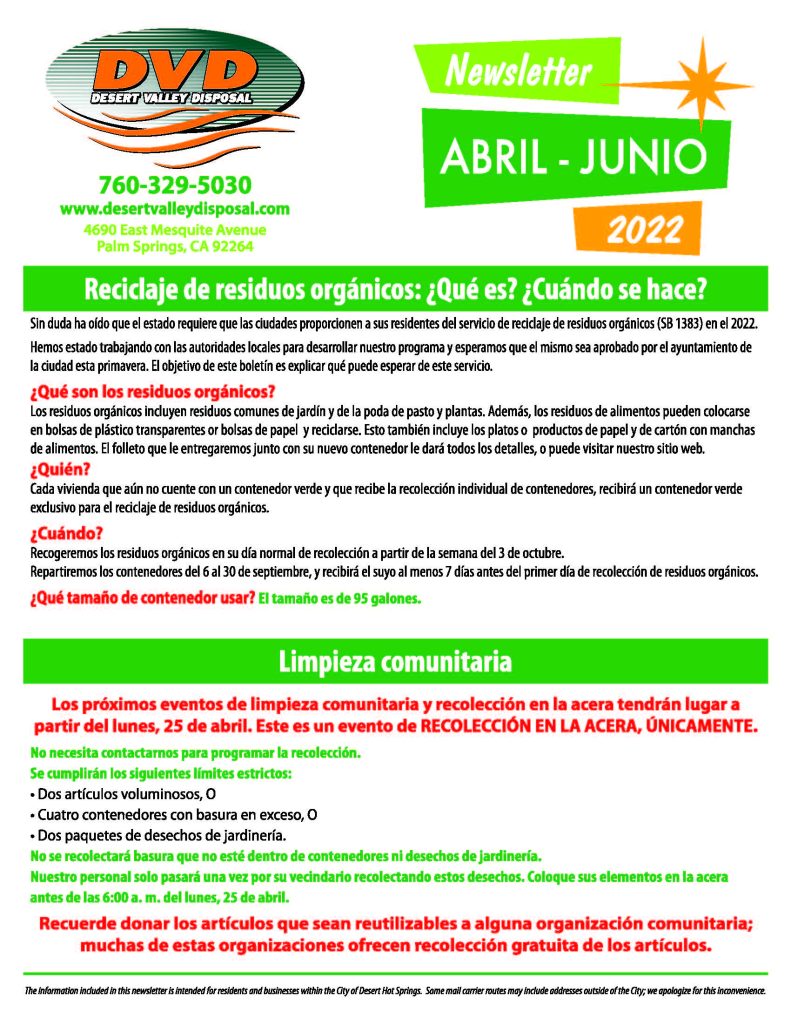 Street Sweeping Services
The City of Desert Hot Springs is excited to announce our new city-wide street sweeping contractor, Contract Sweeping Services. They are one of California's largest municipal street sweeping service providers. The new street sweeping services are scheduled every Thursday, beginning this Thursday, February 10. Please refer to the Street Sweeping Map on our website, located under Public Works Information, to see your scheduled date of service.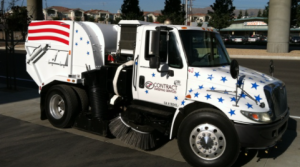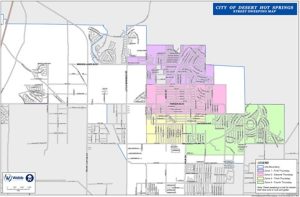 Meet your Public Works Hero of March 2022 - Nick Haecker
Nick is very honored and humbled to be nominated by his fellow Public Works family members. He has worked for the City of Desert Hot Springs for almost four years. His professional background includes over 23 years in local government. Nick is currently in his doctoral program through the University of Southern California.
Nick loves to spend time with his girlfriend Emily and their dog Jager. He loves all outdoor activities including hiking, surfing, snowboarding, and playing sports. Nick loves to cook, make people laugh, recite movie quotes, and even performs an occasional magic trick. If you wonder how amazing Nick is, just ask him and he will tell you.
"I've never felt more at home than I do in the City of Desert Hot Springs!"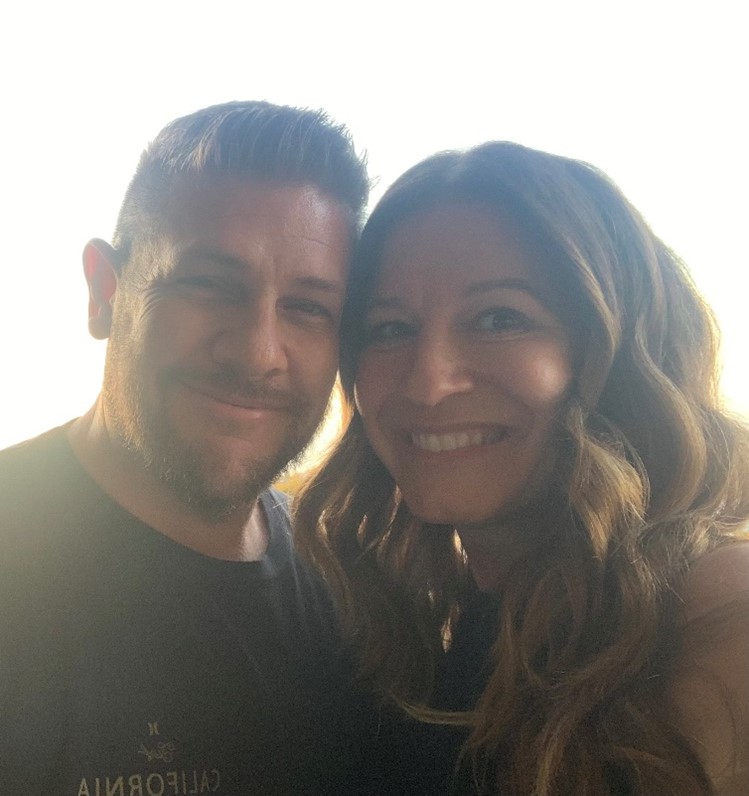 Meet Your Public Works Hero of February 2022 - Lynne Paul
Lynne truly is a Public Works Hero. She was nominated by her peers for going above and beyond her day-to-day duties at the City of Desert Hot Springs. Lynne has worked for the City since 2016. Her career background included over 30 years in the private sector in the field of Periodontology. Before coming to Desert Hot Springs, Lynne served as Office Manager/Governance Administrator.
Lynne was born and raised in Chicago where she met her loving husband, Keith. They have two amazing children, Amanda and and Joshua, who still live in Chicago. Family means everything to Lynne. Her mom, Carole, lives with her and her sister lives just down the street. The next time you see Lynne, ask her why Chicago is known as The Windy City.
"I couldn't be happier here in DHS - love my Public Works family and the entire staff here at DHS".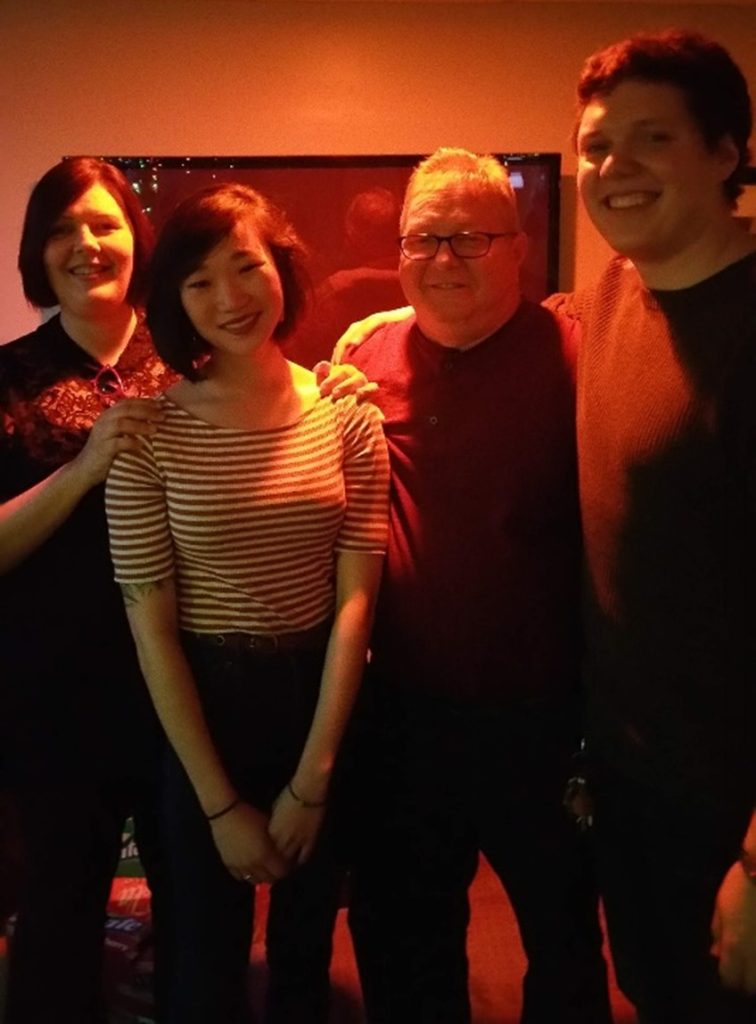 Meet Your Public Works Hero of January 2022 - Victor Sandoval
Victor exemplifies what it takes to be a Public Works Hero. He was nominated by his peers for his outstanding work and dedication to the citizens of Desert Hot Springs. Victor has worked for the City of Desert Hot Springs for over four years. Victor's career background includes extensive years in the private sector in the field of landscape architecture. As a young man, Victor served his country as a member of the Mexican Army.
Victor has been married to his beautiful wife for over 10 years. He has a granddaughter that puts the biggest smile on his face. In his free time, you can catch Victor cruising around on his Harley-Davidson. He is one of the biggest Los Angeles Dodger fans you will ever meet.
"I am a happy man that does my best for anybody" - Victor Sandoval
Pickleball Courts Available
Want to get in on the action of the fastest-growing sport in America? Courts for pickleball are available at Wardman Park located at 8th Street and Cactus Drive. Courts open early morning until 10:00 pm when the lights are no longer available.
To obtain a key for entry, contact Lynne Paul 760-329-6411 ext. 219 or email at lpaul@cityofdhs.org. A $20 cash deposit is required. You may keep the key as long as you wish.  When you no longer require access, just contact Lynne and she will return your deposit.
Preparation for the Holiday Parade and Tree Lighting Festival
Our Public Works crew is busy getting City Hall into the holiday spirit.  Please join us in kicking off the holiday season by watching the official lighting on Saturday, December 11, 2021 following our holiday parade which kicks off at 5:45 pm.
What is a Road Diet?
The City will have several upcoming capital improvement projects (CIP) that involve traffic safety. The term "Road Diet" will be used to describe these projects. A Road Diet's primary objective is to improve safety for all roadway users, while increasing livability by creating a bicycle and pedestrian-friendly environment. Putting our citizens' safety first is priority #1."