Co-Ed Youth Basketball League
August 21 - November 17 for ages 8-14
Practices are on Mondays and Wednesdays from 4:00 pm - 6:00 pm at the Desert Hot Springs Recreation Center gym located at 11750 Cholla Dr. Desert Hot Springs.
Registration opens on August 3, 2023. You may register online here. $50.00 for residents and $100.00 for non-residents.
For more information please call (760) 329-6510.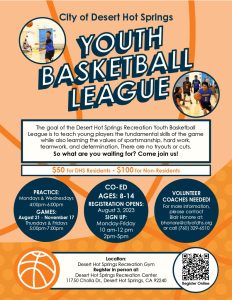 Desert Hot Springs Little League
Registration for the upcoming Little League season is OPEN!
Don't miss out on the chance to get your young athletes involved in a fun and enriching experience that will help them build lifelong skills, friendships, and memories.
Registration Start Date: November 1, 2023
There is an early bird discount of $20 through 11/22/23
Here's why you should sign up:
Teamwork and Sportsmanship
Character Development
Improved Skills
Lifelong Friends
We can't wait to see your kids out on the field, having a blast and making lasting memories. Let's play ball!